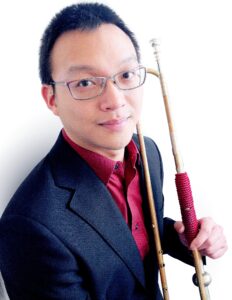 Currently based in The Hague, the Netherlands, Singapore-born Danny Teong is an active historical and modern trumpet freelance performer, and has performed around Europe with various musical ensembles like Concerto d'Amsterdam (NL), Elbipolis Barockorchester Hamburg (DE) and Les Inventions (FR), to name a few. In addition to InDigo Baroque, he is also one of the founding members of the early music ensemble Sua Dolce Maestà which was formed in 2014. He enjoys presenting the multifaceted nature of the trumpet through his own rhetorical style of playing, which emphasizes on the variation of nuances in articulation and sound colour.
Danny is starting to be active as an educator, and has given masterclasses on the historical trumpet and its style of playing, one of which was hosted by Yong Siew Toh Conservatory of Music. He also teaches private lessons.
Danny studied historical and modern trumpet performance with Susan Williams and Gertjan Loot respectively in the Royal Conservatoire of The Hague, and finished with a Master's degree (2017, supported by Adriana Jacoba Fonds) in the former and a Bachelor's degree (2015, supported by National Arts Council of Singapore) in the latter. At present, he follows lessons with Willem van der Vliet, former principal trumpet of the Netherlands Radio Philharmonic. Previous teachers include Arto Hoornweg, Jun Ikebe, and Samuel Hyken.